V5F vs V8 vs V10F : InMotion's electric unicycles compared
InMotion produce some fantastic transport products, their 'V' range of electric unicycles being no exception. Having extensively ridden these models ourselves over the past few seasons, we decided to put together a short comparison article mixing both the specifications and our findings to assist you in selecting the right wheel for your needs. We will be comparing InMotion's V5F, V8 and V10F self-balancing electric unicycles.
All of the wheels share a similar design language with round glossy panels, smoothly integrated handles with motor cutoff switches, white emblems and blue backlit battery capacity indicators. Both of the 'F' models have soft padding at the top of your body for resting the side of your calves on.
The big V10F features squared-off rubber coated folding pedals whilst the others are fitted with rounded smaller units with skateboard style grip tape. Whilst all feature a bright LED headlight and running lights, only the V8 and V10F have programmable 'arched ring' strips of multi-colour LED's running beneath the translucent plastic side panels.
The small V5F is fitted with a 320Wh battery, the V8 a 480Wh and the large V10F a huge 710Wh battery. They take 3.5hrs, 4hrs and 8hrs to charge respectively. Cell packs are mounted above the wheel, responsible for the ellipse silhouette when seen from the side.
Typically the chargers will charge to 85% relatively quickly before ramping down for the remaining charge. All three chargers have the same 84v 1.5A DC output and feature an LED to show charging status. The V8 and V10F chargers feature the same 3-pin plug and are interchangeable unlike the rectangular 'laptop' style plug on the V5F.
Range against real-world range
The V5F has a max range of 21.7miles, the V8 28 miles and the V10F (an almost unbelievable) 56 miles, in line with their battery capacities. For clarity, these figures are the low end of the estimates given by the manufacturer. Note that InMotion test their unicycles with a rider weighing 70kg on a warm (25°C) day, their range tests are performed riding at a steady 12.2 mph. In the real world nearly all of our products (both scooters and unicycles) fall short of the manufacturers estimates as our use cases tend to be varied and much more dynamic.
In testing we have seen around 12 miles out of the V5F, a touch over 20 miles out of the V8 and have hit the high 30's with the V10F, albeit that data split into several days of journeys. Rider weight will have the greatest impact on range and our test riders are indeed larger and heavier than the UK average. Ensuring your tyre pressures are set correctly is the first step to maximising your range, followed by capping your riding speed to say 50% of the wheels potential. Note that as the remaining battery capacity drops lower, the unicycles will push-back at lower and lower speeds as they lack the energy to hit higher speeds leaving some headroom for the motor to react in an emergency situation.
The smallest wheel in the range, the V5F has the least powerful motor. At 550w it will struggle on inclines greater than 18 degrees and heavier riders will struggle to hit that 15.5mph top speed even on the flat, where the motor is busy keeping you upright. Where the 14 inch wheel wins out is in its nimble slow speed handling, such as negotiating chicane barriers or particularly tight routes in indoor environments such as a hall or warehouse. The short height and light-weight make it impressively responsive, its canted pedals ideal for levering the wheel over for turning almost on the spot.
Rated at 800w, the V8's motor will meet the majority of riders needs. It is capable of 25 degree climbs and powerful enough to cruise around 15mph, or hit 18.6mph along the flat. The 16 inch wheel feels more at home at higher cruising speeds than the smaller V5F. Whilst the extra mass is apparent, the unicycle can still carve tight turns as confidently as its little brother, even if the extra clearance under those identically-sized pedals is negated by their flatter angle.
With that 2000w motor sat between your feet, the V10F takes the performance crown. It will power up 30 degree inclines, can hit speeds in excess of 24mph (we would recommend anyone looking to go harder/faster to consider serious motorcycle-grade protection when riding!) and happily cruise at 20mph even with a heavy rider aboard. The wide tyre offers a comfortable ride and excellent grip, essential when travelling at speed. At 20.6kg and 623mm tall (with the battery pack mounted up top) the wheel can feel a little top-heavy in use. Tight turns, slow turns require more rider confidence as the tipping sensation will have you 'back out' well before the wide and high pedals strike the ground.
Smaller stature riders will appreciate the narrow bodies of InMotion's unicycles, allowing for a more natural stance than when riding compared to broader-framed models from Gotway or Kingsong. Those with larger feet will benefit from the larger-platform pedals on the V10F, finished with soft rubber they are comfortable in extended use but lack the traction of the skateboard grip-tape adorned V5F/V8 pedals. Taller riders may struggle to ride distances on the V5F, its canted pedals pushing the riders shins into the pads at the top of the body which will take more conditioning to get used to.
Whilst a subjective opinion, our staff are in agreement that the V8 is the most comfortable for casual riders. Its minimal body padding and relatively flat pedals allow for a natural riding position and its height, weight and resulting inertia are suited for riding at moderate speeds with confidence.
All three unicycles feature handles for carrying. At a touch over 20kg it is unlikely that anyone will want to carry the V10F further than up a staircase. In contrast, the V5F weighs an all-together more manageable 11.9kg and can be carried closer to your body thanks to its narrower profile. Unless you are particularly tall the unicycles will fit in a car footwell behind a drivers seat. At 47cm tall and under 17cm wide, the V5F can even be squeezed into gym lockers.
InMotion's V-series all feature deploy-able trolley handles. When powered up they can be pushed around with the assistance of the motor, the user providing minimal effort to keep the unit upright. The V5F and V10F handles are affixed to the rear of the unit, hinging up almost like a rubber-tipped tail when released. Opting for a telescopic design, the V8 handle operates in a similar fashion to a suitcase handle, released by pressing a button on-top of the case and extending the handle upward where it locks in place.
Comparing the specifications
As a recap, let's take a look at the data comparing the specifications of each unicycle, as provided by the manufacturer:
What to expect from InMotion
Having sold their scooters, eBikes and now unicycles, we have good knowledge of the products and a great relationship InMotion themselves. All of the unicycles featured here ship with chargers, UK specific adaptors and helpful manuals written in good english. They have headlights, bluetooth connectivity (for smartphone app connection), battery temperature protection, lift motor-cutout switches and more.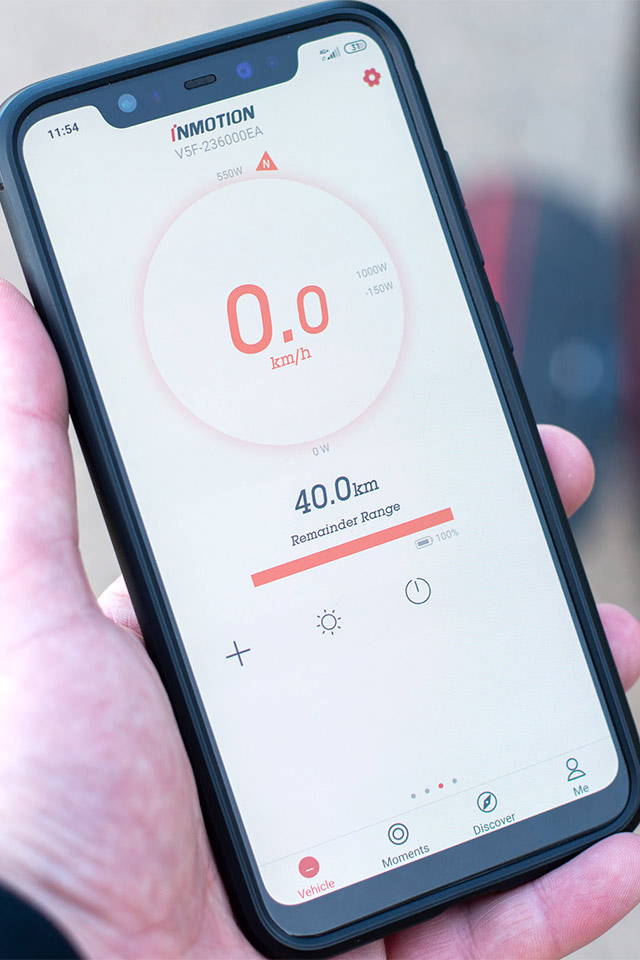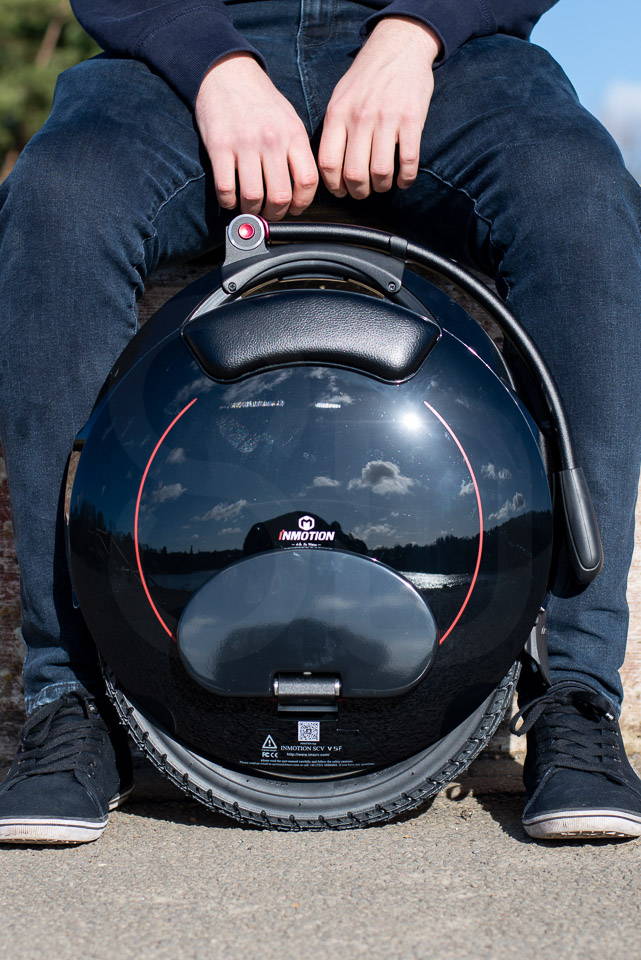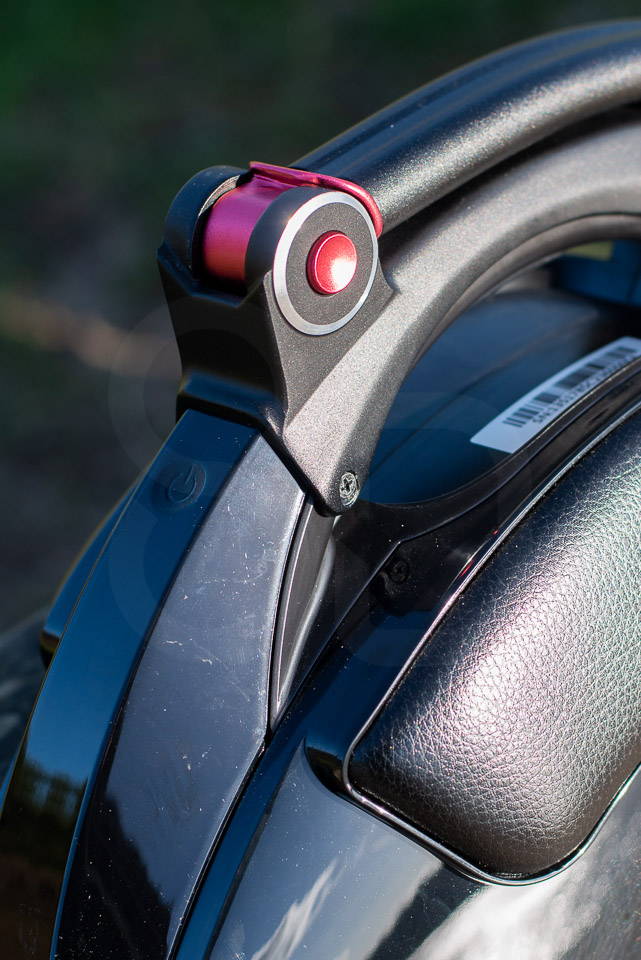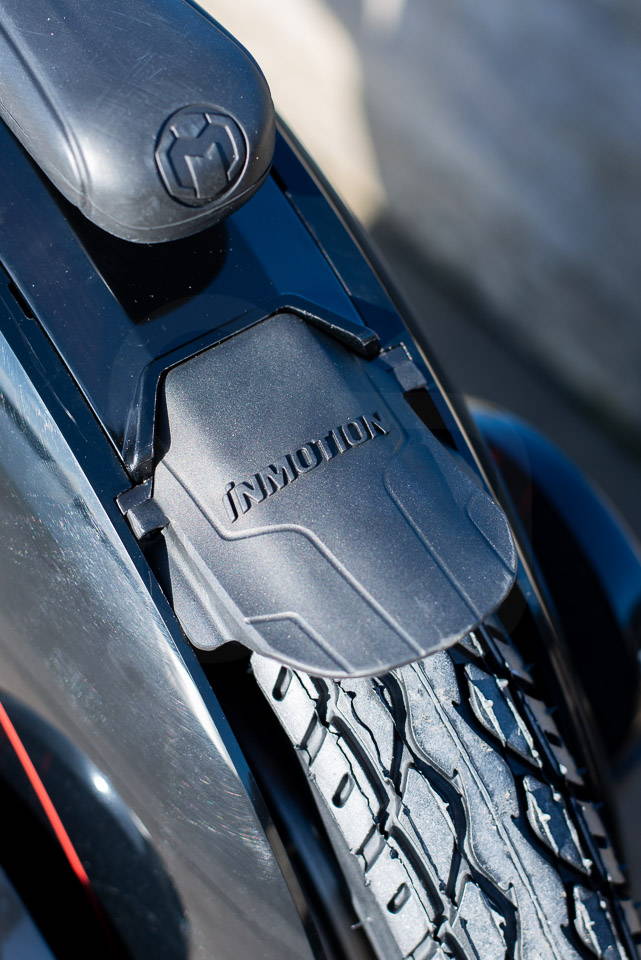 Thanks to some clever packaging that places the battery pack above (as opposed to alongside) their unicycles are narrower than their competitors, easier to store and more comfortable to ride. Well tested, the wheel programming is both predictable and reliable, safety being paramount. InMotion products are polished (both figuratively and literally) and dependable in use, whichever wheel you choose you can expect a satisfying ownership experience.
Which unicycle should I buy?
There is no one universal unicycle for everyone, picking the perfect wheel is very much down to personal preference and requirements. Having ridden a whole host of electric unicycles, our personal favourite is InMotion's V8. We feel its balance of reliability, power and top speed, combined with its narrow body and relatively low weight make it the perfect all-rounder.
If you are looking for a long-distance and/or high-performance wheel we'd suggest looking beyond InMotion's offerings. Check out our review of Kingsong's 16S, or the supercar of unicycles, Gotway's MSuperX! Offering larger battery packs and adjustable ride modes at the cost of a much higher retail price, these wheels are for serious riders.
Should you have any comments regarding selecting the right wheel for you, or have noticed any errors in the article, please leave a message in the comments section below.
Announced late 2019, InMotion's V8 will eventually be getting the 'F' upgrade treatment. The V8F retains the 16inch wheel and similar proportions but will been upgraded with a 1000w motor, a 518Wh battery, a wider tyre and larger, wider pedals comparable to those on the V10F. These changes should equate to a higher top speed, longer range plus improved ride performance and comfort. We are looking forward to reviewing the model later this year.